Download Your Business Card for iPhone, iPad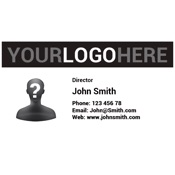 $0.99
Category: Business
Updated: Mar 9, 2018
Version: 1.1
Size: 0.6 MB
Developer: Mathias Hedemann Hansen
Seller: Mathias Hedemann Hansen
Rated 4+
Compatibility: iPhone X, iPhone 8Plus, iPhone 8, iPad 74, iPad 73, iPad 72, iPad 71, iPad 612, iPad 611, iPhone 7Plus, iPhone 7, iPhone SE, iPad Pro97 Cellular, iPad Pro97, iPad Pro Cellular, iPad Pro, iPad Mini 4 Cellular, iPad Mini 4, iPhone 6sPlus, iPhone 6s, iPod TouchSixthGen, iPad Mini 3 Cellular, iPad Mini 3, iPad Air 2 Cellular, iPad Air 2, iPhone 6Plus, iPhone 6, iPad Mini Retina Cellular, iPad Mini Retina, iPad Air Cellular, iPad Air, iPhone 5s, iPhone 5c, iPad Mini 4G, iPad Mini, iPad FourthGen 4G, iPad FourthGen, iPod TouchFifthGen, iPhone 5, iPad ThirdGen 4G, iPad ThirdGen, iPhone 4S, iPad 2 3G, iPad 2 Wifi, iPhone 4
Show all
More by Mathias Hedemann Hansen
Description
"Your Business Card" is your electronic business card. "Your Business Card" can send your contact information and a picture of your business card to an optional e-mail address. When you want to give your contact information, you just enter recipients e-mail and press send. "Your Business Card" sends an e-mail with your contact information as plain text in the mail, but also as a Vcard allowing the recipient to add you to his contacts with one touch. A picture of your business card is also attached to the e-mail. Contact information can also be transferred via a QR code directly in the app. The image of your business card can be added from the phone's Gallery or by taking a new photo with the "New Photo" button. To add or change your information, press the edit button and go into settings. Use the "back button" to return to the main screen. The information is automatically saved and your Vcard updated. 

"Your Business Card" is made by MathiasHH. If you want to report errors, missing features or just a comment, feel free to contact me at mhh@mathiashh.dk. Also check out the version made by andro@isten.dk"
What's New in Version 1.1
Improvements to the UI and fixed a bug that shows your surename twice when using QR Code.
Screenshots for iPhone, iPad