Download xiQ for iPad for iPad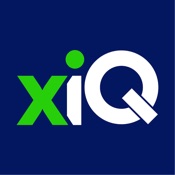 Free
Category: Business
Updated: Mar 9, 2018
Version: 2.6.4
Size: 50.1 MB
Developer: Xtra IQ, Inc.
Seller: Xtra IQ, Inc.
Rated 12+
Compatibility: iPad 74, iPad 73, iPad 72, iPad 71, iPad 612, iPad 611, iPad Pro97 Cellular, iPad Pro97, iPad Pro Cellular, iPad Pro, iPad Mini 4 Cellular, iPad Mini 4, iPad Mini 3 Cellular, iPad Mini 3, iPad Air 2 Cellular, iPad Air 2, iPad Mini Retina Cellular, iPad Mini Retina, iPad Air Cellular, iPad Air, iPad Mini 4G, iPad Mini, iPad FourthGen 4G, iPad FourthGen, iPad ThirdGen 4G, iPad ThirdGen, iPad 2 3G, iPad 2 Wifi
Show all
More by Xtra IQ, Inc.
Description
xiQ B2Best

The intelligence multiplier for a multi-tasking, multi-channel world.

xiQ is the next generation business intelligence solution that enables smarter, faster customer engagement. It curates and prioritizes relevant news, information and social buzz about companies, executives, key decision makers, competitors and related business topics, giving you 360 degrees of insight to help you identify opportunities and accelerate sales. 

You select companies, industries, and topics to match your priorities and prospects. xiQ keeps you up-to-date on breaking news, mergers and acquisitions, new hires, company culture, and emerging market trends. From anywhere at any time. All in one simple, efficient stream. 

Add your own social connections from LinkedIn and Twitter, and discover new ones. We identify top executives within your chosen companies and give you the ability to engage in the social media conversation without ever having to leave the app. 

Save and share relevant information and articles, set alerts, tag information, take notes, get sales tips to boost your productivity and build your personal brand. 

Get a quick overview, monitor key performance indicators, track the latest financial data and stock charts, and dive deep into the strategic vision of companies you're following. 

xiQ was designed for B2B sales and marketing professionals and executives by B2B sales and marketing professionals and executives. There are a plenty of tools designed to track what's already happened. xiQ prepares you for what's next.
What's New in Version 2.6.4
- Push notifications.
- Can Add Companies from global search.
- Can Add Industries from global search.
- Bug/Crash Fixes.
- Stability.
Screenshots for iPad