Download Trade Yellow Pages – Sourcing Magazine for iPad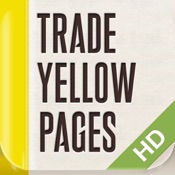 Free
Category: Business
Updated: Feb 2, 2018
Version: 2.2.4
Size: 17 MB
Developer: Focus Technology Co.,Ltd
Seller: Focus Technology Co., Ltd.
Rated 4+
Compatibility: iPad 74, iPad 73, iPad 72, iPad 71, iPad 612, iPad 611, iPad Pro97 Cellular, iPad Pro97, iPad Pro Cellular, iPad Pro, iPad Mini 4 Cellular, iPad Mini 4, iPad Mini 3 Cellular, iPad Mini 3, iPad Air 2 Cellular, iPad Air 2, iPad Mini Retina Cellular, iPad Mini Retina, iPad Air Cellular, iPad Air, iPad Mini 4G, iPad Mini, iPad FourthGen 4G, iPad FourthGen, iPad ThirdGen 4G, iPad ThirdGen, iPad 2 3G, iPad 2 Wifi, iPad 3G, iPad Wifi
Show all
More by Focus Technology Co.,Ltd
Description
Trade Yellow Pages, helps you find high quality China suppliers and products effortlessly.

As leading business sourcing magazine, Trade Yellow Pages has helped millions of factories, traders from China looking for foreign buyers, attracted hundreds of thousands of buyers' concern and subscription over 38 years. 

Trade Yellow Pages issued to more than 150 countries and regions and has numerous subscribers in North America, Europe, and Asia. 

This app version offers you a brand new sourcing experience, welcome to download free.

Features:
1. Get magazines by keyword search or categories
2. Magazines sorted by industry, theme, regional and selected suppliers
3. Check suppliers' information thoroughly, including product details, Audit Reports, etc.
4. Send inquiry to suppliers directly
5. Sign into Member Office, to manage important inquiries
6. Bookmark – a fast way to locate the page
7. Scan QR Code for instant access

We are committed to providing you with the best experience. If you have any problems, comments or feedback, please email us directly at typ@made-in-china.com.
Show more
What's New in Version 2.2.4
1.Adapts to ios7
2.Updates the beginner's guide
3.Optimizes the registration procedure
4.Fixes an issue that videos would not play in full screen
5.Fixes other bugs
Screenshots for iPad