Download Rules of Survival for iPhone, iPad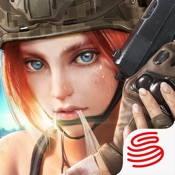 Free
Category: Games
Updated: Mar 22, 2018
Version: 1.0.17
Size: 889.6 MB
Developer: NetEase Games
Seller: Hong Kong Netease Interactive Entertainment Limited
Rated 17+
Compatibility: iPhone X, iPhone 8Plus, iPhone 8, iPad 74, iPad 73, iPad 72, iPad 71, iPad 612, iPad 611, iPhone 7Plus, iPhone 7, iPhone SE, iPad Pro97 Cellular, iPad Pro97, iPad Pro Cellular, iPad Pro, iPad Mini 4 Cellular, iPad Mini 4, iPhone 6sPlus, iPhone 6s, iPod TouchSixthGen, iPad Mini 3 Cellular, iPad Mini 3, iPad Air 2 Cellular, iPad Air 2, iPhone 6Plus, iPhone 6, iPad Mini Retina Cellular, iPad Mini Retina, iPad Air Cellular, iPad Air, iPhone 5s, iPhone 5c, iPad Mini 4G, iPad Mini, iPad FourthGen 4G, iPad FourthGen, iPod TouchFifthGen, iPhone 5, iPad ThirdGen 4G, iPad ThirdGen, iPhone 4S, iPad 2 3G, iPad 2 Wifi, iPhone 4
Show all
More by NetEase Games
Description
Welcome to the brand new RULES OF SURVIVAL arena, where the deathmatch has now been raised to a thrilling epic scale! This is a Battle Royale game now played by over 100 million people worldwide. 

May we present you with a fully upgraded new 8x8 km map that allows 300 players to battle on a wide variety of terrains. Only one will survive! 

Beware, your safe zone is shrinking! So collect scattered weapons, arm yourself to the teeth, and wield your tactics like no other.

Alert !!! It is not just any survival game. You will re-write the RULES OF SURVIVAL!
Come embark on a world-class battle royale NOW!

【Game Feature】
Run or Fight!
- Absolute fair play in a massive HD map.
Last Man Standing!
- Solo or team mode in a 120 survivors' battle.
Pick up and Use!
-Wide variety of firearms and accessories.
Fast and Furious!
- Drive vehicles across different terrains.

Click "Help" in-game to contact us if you need help.

Follow us to get exciting updates:
Facebook: https://www.facebook.com/RulesofSurvival
Twitter: @RoS_Mobile ; @RoS_JPofficial 
YouTube: https://www.youtube.com/c/RulesofSurvival
Official Website: http://www.rulesofsurvivalgame.com/
Show more
What's New in Version 1.0.17
- Players can now vault through windows.
- Increased the max. number of players to 160 for Fireteam Mode in Fearless Fiord.
- Increased the maximum visible range of characters in Fearless Fiord. Maximum visible range is modified in settings. Default setting is highest value.
- During free fall, after exiting the glider, players can choose the opportune moment to deploy their parachute.
- Increased image quality of the points at which trees meet game models to accurately stop bullets.
- Optimized the handling of sports cars, SUVs, trucks, and battle jeeps.
- Optimized the camera angle during free fall.
- Pickup list now displays the quantity of items.
- Time in the Prep Zone has been changed to 80 seconds.
- Memory optimized in five areas.
Screenshots for iPhone, iPad