Download Racing Planet USA for iPhone, iPad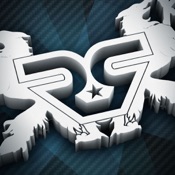 Free
Category: Business
Updated: Feb 2, 2018
Version: 1.3.24
Size: 63.6 MB
Developer: xanario Ltd.
Seller: xanario Ltd.
Rated 4+
Compatibility: iPhone X, iPhone 8Plus, iPhone 8, iPad 74, iPad 73, iPad 72, iPad 71, iPad 612, iPad 611, iPhone 7Plus, iPhone 7, iPhone SE, iPad Pro97 Cellular, iPad Pro97, iPad Pro Cellular, iPad Pro, iPad Mini 4 Cellular, iPad Mini 4, iPhone 6sPlus, iPhone 6s, iPod TouchSixthGen, iPad Mini 3 Cellular, iPad Mini 3, iPad Air 2 Cellular, iPad Air 2, iPhone 6Plus, iPhone 6, iPad Mini Retina Cellular, iPad Mini Retina, iPad Air Cellular, iPad Air, iPhone 5s, iPhone 5c, iPad Mini 4G, iPad Mini, iPad FourthGen 4G, iPad FourthGen, iPod TouchFifthGen, iPhone 5, iPad ThirdGen 4G, iPad ThirdGen, iPhone 4S, iPad 2 3G, iPad 2 Wifi, iPod TouchFourthGen, iPhone 4, iPhone 3GS
Show all
More by xanario Ltd.
Description
Racing Planet is one of the leading mail order shops for scooter and moped parts and accessories. For Apple iPhone and iPad users we offer an optimized Racing Planet App to place order by using mobile Apple devices equipped with iOS.

As registered customer (consumer customer or reseller) you easily log in with your existent Racing Planet web shop access data. As new client you need to set up Racing Planet account before entering and using the Racing Planet App or the web shop www.racing-planet.de to full capacity.
Registered or not, simply browse Racing Planet´s product range, the largest online selection of automatic scooter and moped spare parts, performance parts and accessories, at no charge.

With the Racing Planet App, not only you have quick access to Racing Planet´s product choice, but also you may benefit from services like the goods receipt messaging or the bar code scanner, purpose-built for dealers and for devices with camera only. Ordering with Racing Planet: such a piece of cake.

Enjoy the Racing Planet App. Gladly we accept your suggestions for advancement.
Show more
What's New in Version 1.3.24
iOS 9 support
Screenshots for iPhone, iPad