Download PFIC 2013 for iPhone, iPad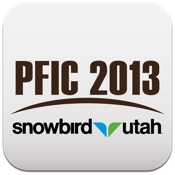 Free
Category: Business
Updated: Mar 9, 2018
Version: 1.01
Size: 2.7 MB
Developer: DOC, LLC
Seller: DOC, LLC
Rated 4+
Compatibility: iPhone X, iPhone 8Plus, iPhone 8, iPad 74, iPad 73, iPad 72, iPad 71, iPad 612, iPad 611, iPhone 7Plus, iPhone 7, iPhone SE, iPad Pro97 Cellular, iPad Pro97, iPad Pro Cellular, iPad Pro, iPad Mini 4 Cellular, iPad Mini 4, iPhone 6sPlus, iPhone 6s, iPod TouchSixthGen, iPad Mini 3 Cellular, iPad Mini 3, iPad Air 2 Cellular, iPad Air 2, iPhone 6Plus, iPhone 6, iPad Mini Retina Cellular, iPad Mini Retina, iPad Air Cellular, iPad Air, iPhone 5s, iPhone 5c, iPad Mini 4G, iPad Mini, iPad FourthGen 4G, iPad FourthGen, iPod TouchFifthGen, iPhone 5, iPad ThirdGen 4G, iPad ThirdGen, iPhone 4S, iPad 2 3G, iPad 2 Wifi, iPod TouchFourthGen, iPhone 4, iPhone 3GS
Show all
More by DOC, LLC
Description
PFIC is a conference focused on content and overall conference experience for the digital forensic professionals in law enforcement, corporate, and legal arenas. Nov 13-15 in Snowbird Utah is the perfect time and venue to get your geek on.


The PFIC 2013 Conference app includes the following basic features:

  Conference info page with point of contact information.
  Listing of each day's sessions and events with the ability to set a calendar reminder for any specific session event.
  Maps of the venue.
  Listing of speakers and their bios.
  Listing of sponsors and the ability to go to the sponsor's website within the app.

Included in the PFIC 2013 app is a customized mini application that generates artifact data on the device to assist the forensic examiner in verifying the proper functioning of their forensic workstation.
Show more
What's New in Version 1.01
Corrected URL to CyTechServices.com.

Corrected Artifact Tool text box for 4 inch display.
Screenshots for iPhone, iPad