Download Downtown San Jose for iPhone, iPad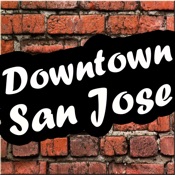 Free
Category: Business
Updated: Mar 9, 2018
Version: 1.0
Size: 32.9 MB
Developer: BumbleBee Mobile App Solutions
Seller: Gil Kiaha
Rated 4+
Compatibility: iPhone X, iPhone 8Plus, iPhone 8, iPad 74, iPad 73, iPad 72, iPad 71, iPad 612, iPad 611, iPhone 7Plus, iPhone 7, iPhone SE, iPad Pro97 Cellular, iPad Pro97, iPad Pro Cellular, iPad Pro, iPad Mini 4 Cellular, iPad Mini 4, iPhone 6sPlus, iPhone 6s, iPod TouchSixthGen, iPad Mini 3 Cellular, iPad Mini 3, iPad Air 2 Cellular, iPad Air 2, iPhone 6Plus, iPhone 6, iPad Mini Retina Cellular, iPad Mini Retina, iPad Air Cellular, iPad Air, iPhone 5s, iPhone 5c, iPad Mini 4G, iPad Mini, iPad FourthGen 4G, iPad FourthGen, iPod TouchFifthGen, iPhone 5, iPad ThirdGen 4G, iPad ThirdGen, iPhone 4S, iPad 2 3G, iPad 2 Wifi, iPod TouchFourthGen, iPod TouchThirdGen, iPhone 4, iPad 3G, iPad Wifi, iPhone 3GS
Show all
More by BumbleBee Mobile App Solutions
Description
Welcome to the Downtown San Jose Mobile App!  Downtown San Jose is the Bay area premier place to find awesome night life and dining.

The Downtown San Jose Mobile App is elegantly designed specifically to provide a list of businesses, special offers, events, and much much more. If you're wanting to know what's happening around Downtown San Jose, this app is a must!

- View discounts and special offers
- Get the latest news and events
- View restaurant menus
- Interact with other people on the Fan Wall
- Use our photo function to submit pictures
- Use our engage feature to call each business, visit their website, or get directions.
Screenshots for iPhone, iPad