Download Design Data Conversion Tables for iPhone, iPad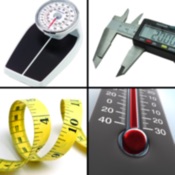 $0.99
Category: Business
Updated: Feb 2, 2018
Version: 1.2.2
Size: 1.1 MB
Developer: 9195-7985 QUEBEC INC.
Seller: 9195-7985 QUEBEC INC.
Rated 4+
Compatibility: iPhone X, iPhone 8Plus, iPhone 8, iPad 74, iPad 73, iPad 72, iPad 71, iPad 612, iPad 611, iPhone 7Plus, iPhone 7, iPhone SE, iPad Pro97 Cellular, iPad Pro97, iPad Pro Cellular, iPad Pro, iPad Mini 4 Cellular, iPad Mini 4, iPhone 6sPlus, iPhone 6s, iPod TouchSixthGen, iPad Mini 3 Cellular, iPad Mini 3, iPad Air 2 Cellular, iPad Air 2, iPhone 6Plus, iPhone 6, iPad Mini Retina Cellular, iPad Mini Retina, iPad Air Cellular, iPad Air, iPhone 5s, iPhone 5c, iPad Mini 4G, iPad Mini, iPad FourthGen 4G, iPad FourthGen, iPod TouchFifthGen, iPhone 5, iPad ThirdGen 4G, iPad ThirdGen, iPhone 4S, iPad 2 3G, iPad 2 Wifi, iPod TouchFourthGen, iPod TouchThirdGen, iPhone 4, iPad 3G, iPad Wifi, iPhone 3GS
Show all
More by 9195-7985 QUEBEC INC.
Description
Created by engineers and for engineers, this application provides you with already calculated conversions and tables for units of :

LENGTH
- inch to mm
- mm to inch

TEMPERATURE
- deg C to deg F
- deg F to deg C

AREA
- sq inch to sq mm
- sq mm to sq inch

VOLUME
- cub inch to ml
- ml to cub inch
- L to UK gal
- L to US gal
- US gal - L

MASS
- lb to kg
- kg to lb

FORCE
- lb force to N
- N to lb force

PRESSURE
- psi to MPa
- MPa to psi

POWER
hp - kW
kW - hp

and more ...

Easy to navigate and quick to access almost all the values any engineer, student or anybody else needs in their assignments. 

Units are also chosen to match common values in imperial system, which are used by workshops and production departments at design and at manufacturing companies. 

We hope that you will enjoy it!
What's New in Version 1.2.2
-Updated Images
-Updated Logo
Screenshots for iPhone, iPad