Download AuthAnvil SoftToken for iPhone, iPad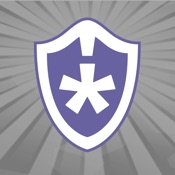 Free
Category: Business
Updated: Mar 9, 2018
Version: 2.0
Size: 0.6 MB
Developer: Scorpion Software Corp.
Seller: Scorpion Software Corp.
Rated 4+
Compatibility: iPhone X, iPhone 8Plus, iPhone 8, iPad 74, iPad 73, iPad 72, iPad 71, iPad 612, iPad 611, iPhone 7Plus, iPhone 7, iPhone SE, iPad Pro97 Cellular, iPad Pro97, iPad Pro Cellular, iPad Pro, iPad Mini 4 Cellular, iPad Mini 4, iPhone 6sPlus, iPhone 6s, iPod TouchSixthGen, iPad Mini 3 Cellular, iPad Mini 3, iPad Air 2 Cellular, iPad Air 2, iPhone 6Plus, iPhone 6, iPad Mini Retina Cellular, iPad Mini Retina, iPad Air Cellular, iPad Air, iPhone 5s, iPhone 5c, iPad Mini 4G, iPad Mini, iPad FourthGen 4G, iPad FourthGen, iPod TouchFifthGen, iPhone 5, iPad ThirdGen 4G, iPad ThirdGen, iPhone 4S, iPad 2 3G, iPad 2 Wifi, iPod TouchFourthGen, iPhone 4, iPhone 3GS
Show all
Description
AuthAnvil SoftTokens transform your smartphone into a two-factor authentication device capable of generating unique one time passwords (OTP).  This provides identity assurance protection when you need to log into protected resources such as Windows servers and workstations through Terminal Services and DirectAccess. It also provides credentials for VPNs, WLANs and web applications like Remote Web Workplace, Outlook Web Access and SharePoint. It provides your credentials to web applications like Office 365 and Google Apps, and offers direct access into AuthAnvil Single Sign On. Even when in "airport mode".  

Prerequisites: To use this application, your company must have an AuthAnvil subscription and have purchased AuthAnvil SoftToken keys. Once installed, an administrator can allow you to activate your device as a valid AuthAnvil SoftToken.
Show more
What's New in Version 2.0
*IMPORTANT: Existing users moving to iOS7 must apply this update and generate at least one OTP before doing the OS upgrade to keep your current SoftToken keys.*

Updated to support more modern iPhones, and includes  copy to clipboard functionality by touching the OTP while displayed.
Screenshots for iPhone, iPad