Yammer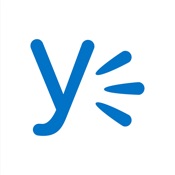 Free
Category: Business
Release: Sep 10, 2008
Updated: Nov 17, 2017
Version: 7.1
Size: 116 MB
Developer: Yammer by Microsoft
Seller: Yammer by Microsoft
© 2017 Yammer, Inc.
Rated 4+
Compatibility: iPhone X, iPhone 8Plus, iPhone 8, iPad 74, iPad 73, iPad 72, iPad 71, iPad 612, iPad 611, iPhone 7Plus, iPhone 7, iPhone SE, iPad Pro97 Cellular, iPad Pro97, iPad Pro Cellular, iPad Pro, iPad Mini 4 Cellular, iPad Mini 4, iPhone 6sPlus, iPhone 6s, iPod TouchSixthGen, iPad Mini 3 Cellular, iPad Mini 3, iPad Air 2 Cellular, iPad Air 2, iPhone 6Plus, iPhone 6, iPad Mini Retina Cellular, iPad Mini Retina, iPad Air Cellular, iPad Air, iPhone 5s, iPhone 5c, iPad Mini 4G, iPad Mini, iPad FourthGen 4G, iPad FourthGen, iPod TouchFifthGen, iPhone 5, iPad ThirdGen 4G, iPad ThirdGen, iPhone 4S, iPad 2 3G, iPad 2 Wifi
Show all
Description
Yammer is the enterprise social network that helps you and your team collaborate openly and stay on top of it all. With Yammer, you can connect to the right people in your organization, share and search for information across teams and organize around projects and ideas so you can do more.

With Yammer for iOS, work gets done anywhere. You can contribute and collaborate with your team, even on the go.

- Collaborate openly with your team: share ideas, work together and iterate in real-time in Yammer groups, wherever you are.

- Connect with everyone: don't let the org chart get in the way. Yammer brings together people who share the same goals across the whole company or organization, so fluid collaboration just happens.

- Stay connected: with Yammer for iOS you're just a tap away from coworkers, information and conversations.

- Share photos and videos: snap a pic or capture a video, then easily share it with coworkers, regardless of file size.

- Get interactive notifications: get notified of important activity right when it happens – and take action right from the lock screen of your iOS device.

-  Work across language barriers: bring down language silos in your organization with 25-language support in Yammer for iOS – including integrated, on–the–fly message translation.
Show more
What's New in Version 7.1
[FIXES] Lots of Good Reasons to Update the App

This update will take care of 90+ bugs, so we've only listed a few fixes that you might notice:
- MP3s are playing again.
- The app no longer crashes when you're trying to view notes or log back in.
- Documents and Excel spreadsheets should load correctly.
- Messages you read from push notifications should be marked as read in your Yammer inbox.
- Mobile YouTube link previews are working now.
Screenshots (iPhone)
Screenshots (iPad)