Snapchat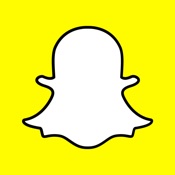 Free
Category: Photo & Video
Release: Jul 13, 2011
Updated: Oct 21, 2017
Version: 10.19.5.0
Size: 207.5 MB
Developer: Snap, Inc.
Seller: Snap, Inc.
© Snap Inc.
Rated 12+
Compatibility: iPhone X, iPhone 8Plus, iPhone 8, iPad 74, iPad 73, iPad 72, iPad 71, iPad 612, iPad 611, iPhone 7Plus, iPhone 7, iPhone SE, iPad Pro97 Cellular, iPad Pro97, iPad Pro Cellular, iPad Pro, iPad Mini 4 Cellular, iPad Mini 4, iPhone 6sPlus, iPhone 6s, iPod TouchSixthGen, iPad Mini 3 Cellular, iPad Mini 3, iPad Air 2 Cellular, iPad Air 2, iPhone 6Plus, iPhone 6, iPad Mini Retina Cellular, iPad Mini Retina, iPad Air Cellular, iPad Air, iPhone 5s, iPhone 5c, iPad Mini 4G, iPad Mini, iPad FourthGen 4G, iPad FourthGen, iPod TouchFifthGen, iPhone 5, iPad ThirdGen 4G, iPad ThirdGen, iPhone 4S, iPad 2 3G, iPad 2 Wifi
Show all
Description
Life's more fun when you live in the moment :) Happy Snapping!

* * *

Please note: Snapchatters can always capture or save your messages, such as by taking a screenshot or using a camera. Be mindful of what you Snap!
Show more
What's New in Version 10.19.5.0
* Curious about something you saw in Snap Map or Stories? Swipe up on any Snap that says "more" to see Context Cards for reviews, hours, ways to get there, and Snaps from that location. 
* Create a Geofilter right on your phone, now available in Canada, Australia, Brazil, Saudi Arabia, UAE, UK, France, Netherlands, Sweden, Norway, Germany, Denmark, Finland, Mexico, Qatar, and Kuwait.