iSozluk2 English-Turkish Turkce-Ingilizce Sozluk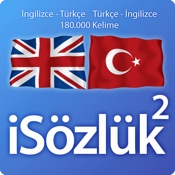 $1.99
Category: Business
Release: Mar 26, 2009
Updated: Mar 29, 2017
Version: 2.1
Size: 6.4 MB
Developer: Noya
Seller: Caner Elci
© 2009 Noya Ltd.
Rated 4+
Compatibility: iPhone 7Plus, iPhone 7, iPhone SE, iPad Pro97 Cellular, iPad Pro97, iPad Pro Cellular, iPad Pro, iPad Mini 4 Cellular, iPad Mini 4, iPhone 6sPlus, iPhone 6s, iPod TouchSixthGen, iPad Mini 3 Cellular, iPad Mini 3, iPad Air 2 Cellular, iPad Air 2, iPhone 6Plus, iPhone 6, iPad Mini Retina Cellular, iPad Mini Retina, iPad Air Cellular, iPad Air, iPhone 5s, iPhone 5c, iPad Mini 4G, iPad Mini, iPad FourthGen 4G, iPad FourthGen, iPod TouchFifthGen, iPhone 5, iPad ThirdGen 4G, iPad ThirdGen, iPhone 4S, iPad 2 3G, iPad 2 Wifi, iPod TouchFourthGen, iPod TouchThirdGen, iPhone 4, iPad 3G, iPad Wifi, iPhone 3GS, iPhone 3G, iPod TouchSecondGen
Show all
Description
New Version Promotion: $1.99 for a limited time

iSozluk is a two way offline dictionary for English to Turkish and Turkish to English, containing approximately 180,000 words and phrases. Since the application works offline, it does not require an internet connection, letting you to use your dictionary anywhere, anytime.

Please send your comments, feature requests and help requests to isozluk@noyaltd.com address.

P.S. Please do not request for help in your review, since we cannot contact you through your review. 

------------------------------------
Yeni Surum Kampanyasi: Bir sureligine sadece 1.99$

iSozluk, cevrimdisi Ingilizce-Turkce, Turkce-Ingilizce sozluk uygulamasidir. Yaklasik olarak 180.000 kelime icerir. Uygulama cevrimdisi calistigi icin internet baglantisi gerektirmez. Bu da sozlugunuzu istediginiz zaman, istediginiz yerde kullanmaniza olanak tanir.

Bu uygulama hakkindaki onerileri ve yardim taleplerinizi isozluk@noyaltd.com adresine gonderebilirsiniz.

NOT: Lutfen yorum (review) yazarak yardim talebinde bulunmayiniz. Oradan size ulasma sansimiz olmadigi icin, yukaridaki e-posta adresini kullaniniz.

Keywords: Dictionary, Turkish Dictionary
Anahtar Kelimeler: Sozluk, Sözlük, Ingilizce Sozluk


Show more
What's New in Version 2.1
Bu versiyon iSozluk2'ye kelime eklentisi icermektedir. Kullanicilarimizin istegi uzerine sozluk icerigi elden gecirildi, yeni kelimeler eklendi. Diger yetenekleri ayni kalan iSozluk2'nin sozcuk sayisi artik daha tatminkar bir duzeye ulasti.
Lutfen, eksik gordugunuz kelimeler icin bizimle e-posta araciligiyla iletisime geciniz. AppStore uzerinden yazdiginiz yorumlardan sizlere ulasmamiz mumkun olmamaktadir.

iPad versiyonu yakinda kullaniminiza sunulacaktir. Hizli ve cirkin bir iPad versiyonu yerine, biraz daha kullanisli ve iPad'in tarzina uygun bir uygulama halinde yuklenecektir.

---

This version of iSozluk2 has additional words. We've added many new words to the dictionary. Please contact us through e-mail for any question or suggestions.

iPad version will be ready soon. Instead of publishing iSozluk2 as an ugly iPad application, we're working on its design and user experience enhancements. 

Screenshots (iPhone)