Google Wifi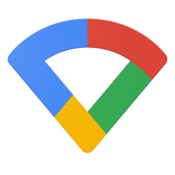 Free
Category: Utilities
Release: Aug 30, 2015
Updated: Dec 10, 2017
Version: 2.6.0
Size: 67.8 MB
Developer: Google, Inc.
Seller: Google, Inc.
© 2015 Google Inc.
Rated 4+
Compatibility: iPhone X, iPhone 8Plus, iPhone 8, iPad 74, iPad 73, iPad 72, iPad 71, iPad 612, iPad 611, iPhone 7Plus, iPhone 7, iPhone SE, iPad Pro97 Cellular, iPad Pro97, iPad Pro Cellular, iPad Pro, iPad Mini 4 Cellular, iPad Mini 4, iPhone 6sPlus, iPhone 6s, iPod TouchSixthGen, iPad Mini 3 Cellular, iPad Mini 3, iPad Air 2 Cellular, iPad Air 2, iPhone 6Plus, iPhone 6, iPad Mini Retina Cellular, iPad Mini Retina, iPad Air Cellular, iPad Air, iPhone 5s, iPhone 5c, iPad Mini 4G, iPad Mini, iPad FourthGen 4G, iPad FourthGen, iPod TouchFifthGen, iPhone 5, iPad ThirdGen 4G, iPad ThirdGen, iPhone 4S, iPad 2 3G, iPad 2 Wifi
Show all
More by Google, Inc.
Description
The Google Wifi app lets you set up and control your Google Wifi points or OnHub right from your mobile device. It puts you in control of your network -- easily share your Wi-Fi password, see what devices are online, prioritize them for better performance, or pause the Wi-Fi on kids' devices. The app also provides insights to help you get the most out of your Wi-Fi.

Here's what you can do with the Google Wifi app:
• Set up your Google Wifi system or OnHub in just a few minutes
• Prioritize a device for faster speeds when it matters most
• Pause the Wi-Fi on kids' devices
• See what's connected to your network and how much bandwidth you're using
• Create a separate network for your guests
• Run a network check to test your connection speed
• Make changes to your settings, such as your Wi-Fi network name and password 
• Add a network manager who can help you monitor your Wi-Fi
Show more
What's New in Version 2.6.0
Family Wi-Fi: Delay a schedule for 30 minutes, even after it starts.
Advanced settings: Customize LAN settings including router IP, subnet, and DHCP address pool.
General stability & performance improvements.